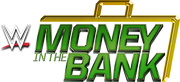 Money in the Bank a professional wrestling event produced by the WWE, a Connecticut–based promotion, and broadcast live and available through pay-per-view and the WWE Network. It is named after the Money in the Bank ladder match, which previously only took place at WrestleMania. The Money in the Bank ladder match debuted at WrestleMania 21 in 2005. The Money in the Bank match would then be held at the next five WrestleMania events, after which the match concept was spun off on to its own pay-per-view beginning in 2010.
Ad blocker interference detected!
Wikia is a free-to-use site that makes money from advertising. We have a modified experience for viewers using ad blockers

Wikia is not accessible if you've made further modifications. Remove the custom ad blocker rule(s) and the page will load as expected.