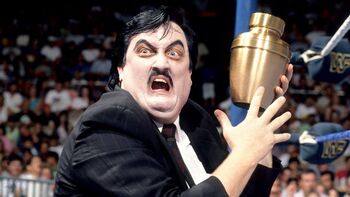 "Best remembered as the unsettling caretaker of intimidating Superstars like The Undertaker, Kane and Mankind, Paul Bearer crept into WWE in 1990. Fish belly pale in a dour black suit, the grim mortician was about as pleasant as dental surgery, which made him a perfect fit for his role as the eerie spokesman for The Demon from Death Valley.
Ad blocker interference detected!
Wikia is a free-to-use site that makes money from advertising. We have a modified experience for viewers using ad blockers

Wikia is not accessible if you've made further modifications. Remove the custom ad blocker rule(s) and the page will load as expected.