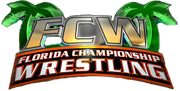 Florida Championship Wrestling was a Professional wrestling promotion based on the former independent, Championship Wrestling from Florida promotion, which operated from 1961 until 1987. From 2008 to 2012, the promotion served as the official developmental territory for WWE. It was then in 2012 that the WWE officially bought out FCW and renamed it WWE NXT.
History
The promotion, in its current form, was started by Steve Keirn in 2007 to be WWE's second developmental territory when they ended their relationship with the Georgia-based Deep South Wrestling in early 2007. It became their sole developmental territory in early 2008 when they ceased affiliation with Ohio Valley Wrestling.
FCW's debut show was on June 26, 2007 at Tampa, Florida's Dallas Bull. A 21 man Battle Royal was held during the show, to crown the first ever FCW Southern Heavyweight Champion. The next year the FCW Florida Heavyweight Championship was introduced, with Jack Swagger becoming the first champion at a February 15 show after surviving a Battle Royal and defeating Ted DiBiase Jr.. The FCW Florida Tag Team Championship was also introduced in February, with the Puerto Rican Nightmares (Eddie Colón and Eric Pérez) beating Steven Lewington and Heath Miller to win it in the finals of a one night tournament. The singles titles were later unified, keeping the "Florida Heavyweight" name.
Their weekly television program debuted on Bright House Sports Network as of October 5, 2008 and can be seen every Sunday night at 6:00pm.
On July 7, 2008, WWE confirmed that FCW was based on the original independent, Championship Wrestling from Florida promotion, which operated from 1961 until 1987. On March 20, 2012, it was reported that WWE will cease operation at Florida Championship Wrestling. However, that report is now false as Triple H, the kayfabe COO and legit EVP of Talent and Live Events of WWE and FCW's owner Steve Kerin, stated that Kerin and WWE are "revamping" the FCW, though the revamp has yet to be seen. In August 2012, WWE dropped the FCW name and began running all of its developmental events and operations under the NXT banner.
Current champions
| Championship | Champion(s) | Date Won | Previous Champion(s) | Location |
| --- | --- | --- | --- | --- |
| FCW Florida Heavyweight Champion | Leo Kruger | September 1, 2011 | Bo Rotundo | Tampa, Florida |
| FCW Florida Tag Team Champion | Brad Maddox & Briley Pierce | November 3, 2011 | CJ Parker & Donnie Marlow | Tampa, Florida |
| Queen of FCW | Raquel Diaz | February 3, 2011 | Aksana | Tampa, Florida |
| FCW Divas Championship | Raquel Diaz | December 15, 2011 | Audrey Marie | Tampa, Florida |
| Florida 15 | Damien Sandow | September 22, 2011 | Seth Rollins | Tampa, FL |
Roster
Male Wrestlers
Female wrestlers
Staff
FCW Alumni
Show Results
Ad blocker interference detected!
Wikia is a free-to-use site that makes money from advertising. We have a modified experience for viewers using ad blockers

Wikia is not accessible if you've made further modifications. Remove the custom ad blocker rule(s) and the page will load as expected.